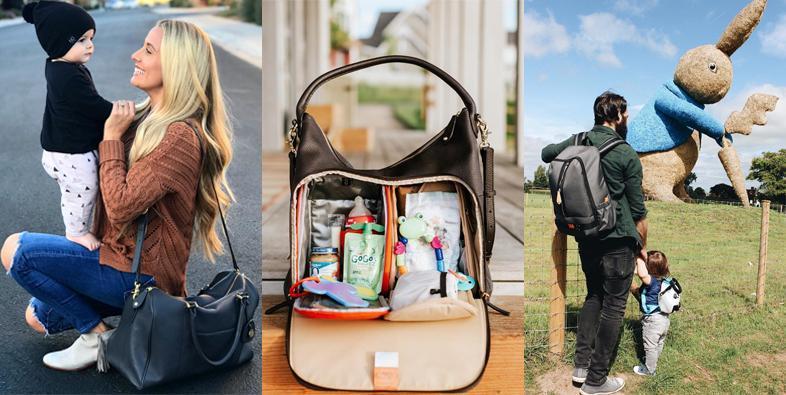 Our favourite PacaPod regrams of 2017
Happy 2018 everyone! January can be a difficult month, particularly here in the UK when the weather is so bad and the days are so dark. However, it is also a wonderful time for reflecting on the year just gone, and making new exciting plans for the year ahead.
As a result of this, we decided to have a little look back through all the wonderful images you have tagged us in throughout 2017, and thought that we would share our favourites with you below. Don't forget to keep tagging us in any images of you with your PacaPod and use #pacapod.
Kicking it off is this glorious shot from @edevenney. We love how bright and colourful it is, as well as showing how to make full use of our 3 in 1 pod system. If we ever need any changing bag packing tips, we know where to head!
Next is cool mama @kirstymcmanus. We love how she has styled the Saunton changing bag here, with it's laid back slouchy vibes - perfect for days out with your little one.
Another image with serious #packinggoals is this wonderful shot from @therusticmother. We got to see everything that Lindsay was packing for her hospital bag, and how she made full use of the extra travel pod in the Croyde changing bag.
There's nothing quite like the look of love between a mother and her babe, and @jessicastatezni is certainly showing us that here! We also love how shes styled her Firenze in pewter too.
This picture from @darling.darlings has certainly got us dreaming of warm summer picnics! Our feeder pods are the perfect addition to a picnic with their insulated lining.
Oh yes, plenty of Papas rocked PacaPod's throughout 2017 too! @kalleyheili shows us the beauty of having a unisex changing bag, as it means mama can be hands free to snap those oh so precious moments.
We love this aerial shot from @thebumblediaries, as it shows just how easy PacaPod's make it to adventure with your little ones. Outdoors, but need to do a quick nappy change? Grab your changer pod, find a flat log and its all systems go!
Plenty of doting siblings featured in your pictures last year, and there were so many we loved! One of our faves had to be @cellajaneblog's little girl being such a helpful big sister.
We got serious snack envy when we saw this shot of @thismamalife's Firenze in pewter. We love how she has organised her changing bag, ready for a day of fun with her little ones!
Not only did we love this regram from @ohsolovelyhelen but you did too, with it being one of our most liked pictures of 2017! It certainly has us lusting over warmer, sunnier days.
We loved every single image that we were tagged in throughout 2017, and really enjoyed seeing how you all packed and styled your PacaPod's. Don't forget to keep tagging us in your snaps and using #pacapod... and who knows, it may then feature on our favourite 2018 regrams!