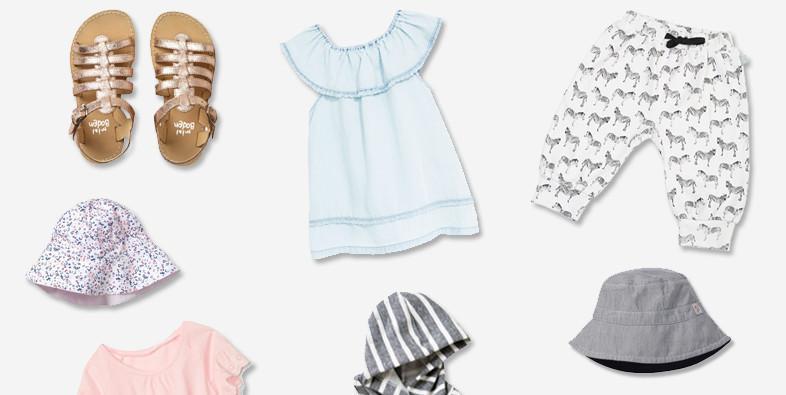 Summer can be a tricky time to dress your little ones with wanting to keep them cool, whilst also protecting them from the sun. We thought we would try and help you out by compiling a little list of some pieces that we think would fit just perfectly in any toddler's summer wardrobe.
1. Both beautiful and practical, these gladiator sandals are perfect for your little one's summer adventures. Finished in a very on trend rose gold, in durable leather, they're the ideal summer wardrobe staple.
2. This dress is made for warm summer evenings. With an elasticated neckline and frill detailing, it's suitable for both casual and formal events.
3. We think these trousers are just perfect for those more casual, activity filled days. The loose fitting material will ensure that your toddler doesn't get too hot, and isn't restricted when off on an adventure.
4. We couldn't compile a summer wardrobe without the essential of a summer hat. Wherever you are in the world, it is a great idea to have on of these on hand for those warmer days. Despite this being an essential wardrobe piece, we just love the floral design on this gorgeous hat!
5. No wardrobe is complete without the addition of a t-shirt. Made for those days when time is of the essence, this practical but pretty t-shirt is wonderful for flinging on without a fuss. With beautiful eyelet detailing on the scalloped cuffs, and made from a luxurious soft jersey – this staple piece will stand out just that little bit more.
6. This sleeveless hoodie from LuLu and Roo is ideal for when the sun goes down, ensuring your littles stay warm whilst out and about. The wide neck makes it easy for taking on and off, whilst the beautiful fabrics give it a lovely, luxurious feel.
7. As we previously said, no summer wardrobe is complete with out a summer hat, with it being a necessity for warmer days. This pure cotton hat from The White Company will ensure that your toddler keeps cool during the summer months, whilst the reversible element gives you two style options when out and about.
8. Denim shorts are another staple for summer, and these ones really stood out to us with the adorable lace detailing on the bottom. Wonderful for days when you want fuss free dressing, and ideal for slipping on over the top of a swimming costume, ready for a day at the beach!
9. We love this more neutral coloured t-shirt and think it's great for pairing with jeans or shorts - making the perfect outfit for a fun filled day.
10. These adorable loafers from Next, just make our hearts melt! Made from real leather, they're a wonderful addition to any wardrobe for those more formal occasions with your little one.