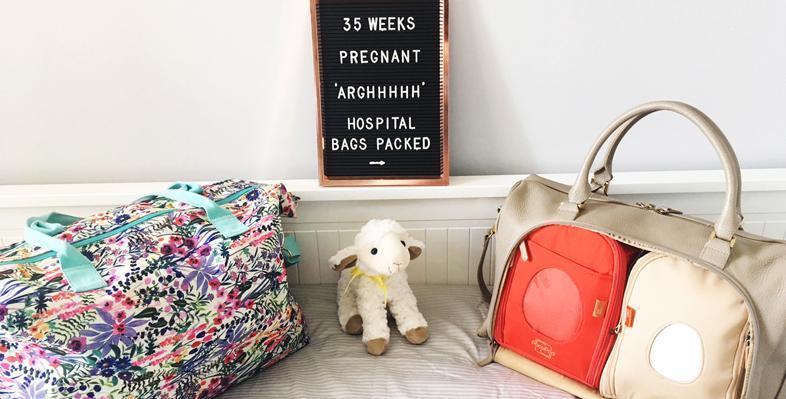 What's in my hospital bag
Before I packed my hospital bags I did some serious research asking friends what they found most useful and scouring the internet for best hospital packing lists. I have combined all the advice to help me pack my bags and more than anything I feel prepared and confident I have all that I need to feel comfortable (as much as I can be!). I am planning to have a hospital birth so the following is what I need for a straight-forward (we can hope/delude myself) hospital delivery. I do tend to overpack but I don't want to look like I'm moving in so I've tried to limit myself and pack light.
What to Pack in a Hospital Bag
Birthing night dress – I know you can just wear a large shirt but I wanted something comfortable and not too restricting but also button down ready for skin to skin once the baby is born. I bought mine from Mothercare here.
3x large (dark!) pants – I did specifically go out and buy these because I wanted to buy bigger and uber comfortable pants for after birth. I bought 2 sizes up from my pre-pregnancy bottom and seam-free so there's no irritation.
Toiletries and makeup bag – I've packed a little bit of makeup in case the after birth glow they speak of isn't enough to make me look human!
Concealer.
Mascara.
Bronzer.
Lipbalm – apparently gas and air dry's your lips so I've packed a really moisturising one.
Deodorant.
Foot spray – I've used a lot of the Mama Mio products thoughout pregnancy and the cooling foot and leg spray was part of the set here
A mini empty spray bottle to fill with water – hopefully this will be cooling and refreshing.
A flannel – this was a recommendation from my friend who found it really comforting when in labour. Great for using with water or oils to help relax me
Lavender and Clary Sage oil – these were recommendations of Clemmie Hooper (@mother_of_daughters), lavender for it's calming and healing qualities and clary sage essential oil to help enhance contractions if things start to slow (this shouldn't be used until at least 37 weeks) Clary Sage and Lavender.
Headphones – in case I need to zone out and listen to a hypnobirthing playlist.
TENS machine – I borrowed this from my sister-in-law and just had to buy new pads, I've packed it but I expect this to be more useful at home in the early stages of labour.
Phone charger!
Dark towel for showering at the hospital.
Maternity pads – another reason for the big pants! I've put a full pack in (10 pads).
Flip flops – Great for walking around the hospital or just using in the showers in the labour room.
Bed socks x2 – something I read and saw on a lot of lists, apparently your feet get very cold.
Bikini top – at some point I'd like to use a birthing pool, even for just pain relief so I bought a dark bikini top from Primark. My boobs have become enormous during pregnancy so I needed a size 18 to keep them contained! The great thing about this bikini is it's got a tie back so can be adjusted, it's padded but not wired so actually looks nice and I really like the khaki colour, which should be practical too. Win!
PJ's for after birth – I bought these, as I was looking for something super stretchy, loose and with a button down top for breast-feeding. Although not maternity I love the cute print of these, which I bought from George, Asda for £15 here! I have been told it can be very hot in the maternity ward so I will probably pack some loose PJ shorts too.
Dressing Robe – The one I have packed looks a bit fancy but it's dark and light so packs well and won't make me too hot.
Breast pads – I've packed the box as I wasn't sure how many I need!
2x breast feeding bras.
Going home outfit – I've packed a maternity dress as it will be May/June when I go into labour and this will be loose whether I have a natural birth or C-section.
When to Pack Your Hospital Bag
There is no right or wrong time to pack your hospital bag as long as it's ready for when you need it. After researching and asking friends for advice on what they did, I sourced that around 35 weeks and onwards is the ideal time to pack your hospital bag. You are then prepared for every outcome and will have the bag ready and waiting! Along with having a bag for hospital ready I also planned my transport, ensuring I would be able to get to the hospital whatever the time of the day or night.
Baby bag for hospital
Of course, I have my trusty PacaPod – I bought this before I became pregnant because I loved the style and it doesn't look like a changing bag! Now I can actually use it for it's purpose, I found it so useful having the pods to pack all of baby's things and now I feel mega organised and it will be really easy to find everything. I have the Firenze in putty [here].
Feeder Pod – I plan to breast feed so I've used this pod to pack snacks and energy boosters for me during labour in hospital.
Energy drink
4x Graze protein bars to give me energy.
Jelly babies – I love sweets, especially now that I'm pregnant so this will feel like a real treat and sugar boost when I need it.
Changer Pod
5x nappies (plus an extra 5 in the main section of the bag).
Water Wipes – I know the midwives don't like you using wipes to clean the baby when they are newborn but I figured wet wipes are useful for cleaning up a lot of different kinds of mess!
Bepanthen nappy cream – babies skin is super thin when they are born so I don't intend on using this straight away, hopefully water will do the trick!
Anti-bacterial gel.
2x short sleeved baby grows and 2x long sleeved baby grows with scratch mitts attached in a range of sizes (early baby-1 month).
1x going home outfit – I have so many beautiful baby grows so found it hard to pick one. We don't know the gender of the baby and you cant beat a fresh baby in white so I've packed one they'll look cute in photos but nothing too fancy.
2x hats – when they are first born they need to wear a hat to keep their head warm, I have packed a spare in case this gets dirty from the vernix they are born in.
Parent Section
Cotton wool – I've packed the bag as this was easier although I don't expect I'll need much while they are in hospital.
2x Cellular blankets – I've packed two as the first may get dirty if used straight after the baby is born.
3-4x Muslin squares – I'll be using aden + anais muslin cloths and swaddles as I love the feel of them, they wash very well and they have some great prints here.
Extra Essentials
Pillow – Okay so not essential but I wanted to have some home comforts and extra pillows if I need them.
Birthing ball – A lot of hospitals have these but just in case there's not one available or if it's not very pumped up, I figured there's no harm in keeping this in the car. I intend to keep active and upright during labour so I think this will help.
Hypnobirthing audio and music playlist on my iPhone – I was pretty sceptical of hypnobirthing but the more mums I speak to, the more I hear how it helped them through labour. I haven't done a class but have several audios to listen to if I find I need them to help with breathing and staying calm. I have the Clemmie Hooper 'How to grow a baby and push it out book', she recommended Yes Mum hypnobirthing audio, which I started listening to from 33 weeks so I'll have this loaded onto my iPhone.
Hot water bottle – A friend recommended this for helping ease the pain in between contractions.
Car Seat – I will be fitting this in my car 2 weeks before due date. It's a must have as you cannot leave hospital without it. I have a BeSafe iZi Modular iSafe carseat with isofix base, which I bought online from Natural Baby Shower here.
Please comment below with your must-have hospital bag essentials or if I've missed anything off my list!
Meg Verney, Head of Marketing & 35 weeks pregnant