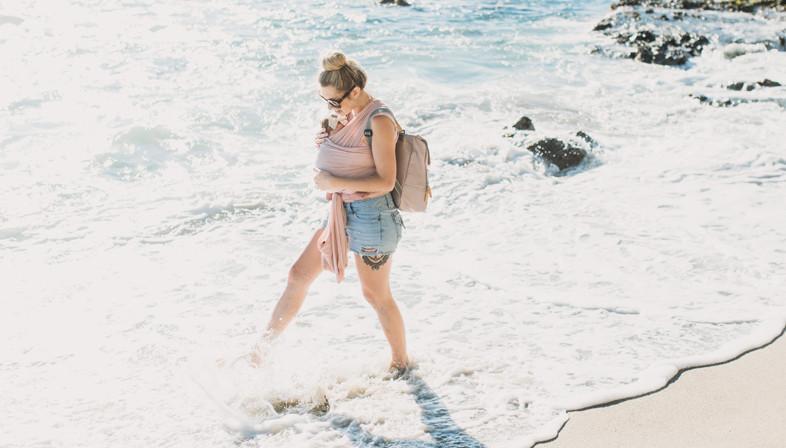 6 Reasons to Wear Your Baby
Babywearing has become increasingly popular over recent years and for good reason! There are so many benefits for the baby and person wearing them. Here at PacaPod, we understand why parents are embracing this way of travelling with their little ones, which is why we made so many of our changing bags with backpack straps so they can be carried hands-free and while wearing your baby! Below are 6 great reasons why some mamas (and dads too!) are choosing to babywear!
1)    To promote closeness between you and your baby: Even when you can't give your baby all of your attention, when you wear them they are always with you. They are hearing your voice and feeling your heartbeat. They feel close to you this way, and this closeness makes them feel safe and confident enough during the times when they are away from you as well.
@_ashley_noel_ wearing a solly baby wrap and Hastings driftwood
2)    To foster a happier baby: There is a direct correlation between wearing your baby and reduced crying. Especially in the evening. Many mums suggest wearing your little one to soothe her during those five o'clock fussies to make it more bearable for both of you!
3)    To help your baby learn: A baby being worn by her parent is calm and alert enough to take in their surroundings. The more they take in- sights, smells, facial expressions - the more they will learn.          
4)    To get things done: When you wear your baby your hands are free to get things accomplished. You can do your dishes, run errands, do some work, or whatever tasks you need to get completed during the day. This is especially true when you're out and about and also have a changing bag that can be worn as a backpack!
@mama_endo ultimate multi-tasking - Oban PacaPod on her back, baby on her front and toddler in one hand

5)    Nursing: Some mothers have greater success breastfeeding their babies while wearing them. Since baby is so close to you while being worn, you'll also be able to respond to feeding cues quicker.
Ways to wear your baby:
Baby Carrier
Wrap
Sling
Some of our favourite brands for babywearing:
Ergo
Solly Baby
Happy Baby
Wildbird