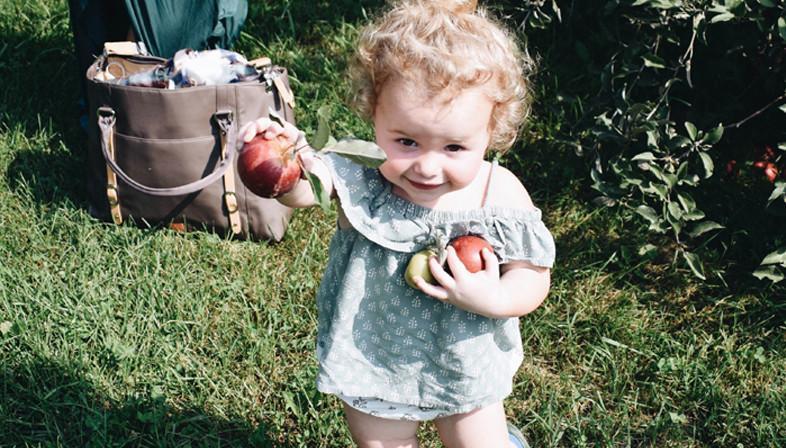 If you're searching for ideas to make the most of the Autumn weather that is upon us, look no further. US Mama Tracie Weaver is sharing her Autumn activity to-do list with us, and it has us looking forward to getting outdoors with our little ones!

What's your favourite thing about Autumn?
Fall has been my favourite season ever since growing up. We live in the Midwest United States so we get a good taste of all the seasons. I have so many favourite things about fall, but if I would have to only pick one thing it would be the fashion. I love everything from scarfs to boots and dressing up with layers.

What do you carry with you in your PacaPod for seasonal outings with your little one?
I always make sure I have a few snacks, a variety is always good for a toddler. We also pack a juice cup and some neat cheeks (hand/mouth wipes) to clean up. I always have a small blanket or blanket scarf just incase we need to sit on the ground anywhere we go. I always have a pod filled with Tylenol, bandaids, hair bands,brush, and other small things just in case of an emergency. I also never leave without diapers/wipes and an extra outfit!! Having a full bag is never a bad idea, you never know what will happen on family outings!
What adventures are you going on this Autumn?
We love picking our own apples. And we are a huge camping family and starting next weekend we head out to an Autumn camping weekend with the family. We also plan on heading to a pumpkin patch and this year for the first time we are heading to Nashville Tennessee for a few days. So we definitely have a lot of plans this fall and I can't wait for it all.

Apple-picking! Sounds fun. Tell us more!
We have two apple orchards really close to our home and one of them we go to every year called McClures Apple Orchard. It's such a neat place with so many activities whether you just want to go with friends or family. They have a local winery on the property, tractor ride, pumpkin patch, barns filled with animals, a playground, food truck and a store to purchase homemade syrups and lots of other goodies.

What are you going to do with all the apples you picked?! Do you have a favourite recipe you like to make for your family?
We are huge Apple eaters so most of the time we always just put a few in the fridge and some on the counter and just eat away. I don't usually ever make a recipe with them, however I do make caramel apples every year. Items I buy for my caramel apples are - caramel, chocolate, mini chocolate chips, nuts and sprinkles.