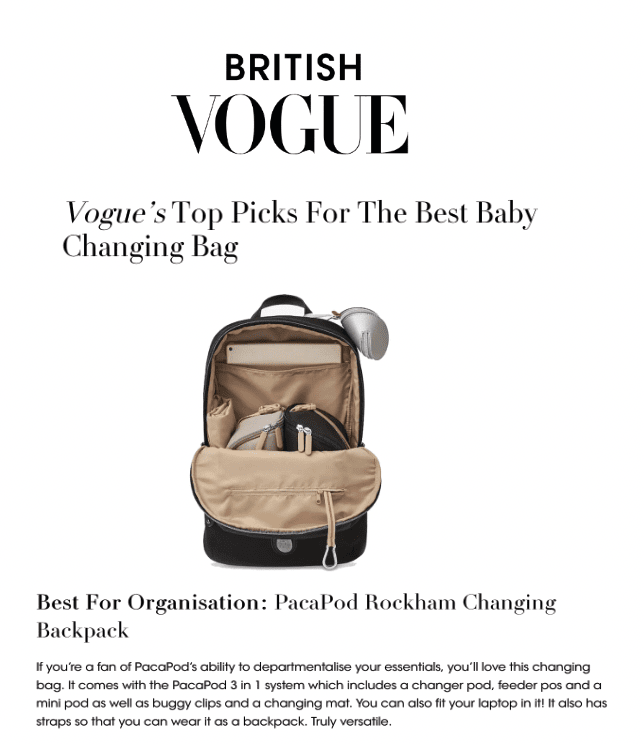 award winners... 2023 best baby changing bags
Why it's a winner: Don't want a bag that screams 'baby on the go'? This is the answer. With a smart satchel look made from vegan 'leather', our users appreciated how this genuinely looks like a regular bag and is gender neutral. However, it still has those practical changing features you can't live without: pockets galore, an insulated feeder pod and a separate changer pod, to keep things hygienic (both of which remove and can clip onto buggie handles). It feels robust and has straps for rucksack-style carrying, so is "good for keeping your hands-free," said parent tester Alex, who gave it a spin with their 1 year old.
In the words of parent tester Sarah, who tested this with their 1 year old: "This feels so stylish, not like a changing bag. The pods were really easy to use: I love how the changing pod opens flat so it's easy to access everything needed during a nappy change. It also feels like a more ethical choice as it can be refurbished, reused or recycled."
Vogue editor and mum, Lauren Murdoch-Smith, curates the ultimate baby changing bag list, to help you choose the right nappy bag to accommodate all yours and your baby's needs when you're out and about together.
Best For Organisation: PacaPod Rockham Changing Backpack
If you're a fan of PacaPod's ability to departmentalise your essentials, you'll love this changing bag. It comes with the PacaPod 3 in 1 system which includes a changer pod, feeder pos and a mini pod as well as buggy clips and a changing mat. You can also fit your laptop in it! It also has straps so that you can wear it as a backpack. Truly versatile.
PacaPod's impressive Saunton changing bag wowed our home testers over and over again. Great as a unisex baby changing bag, our testers loved the top quality materials and soft vegan leather construction.
As with all Pacapod's bags, you can customise and extend this bag according to your baby's age and stage with different pods – there's a changing, feeding, toddler and travel pod, plus a 'freedom' pod which holds mum's precious items like phone, keys and sunglasses. Add a changing mat, pram clips and a bottle wrap to complete your bag. When your baby has reached the age where you no longer need the pods, you can simply remove them and use the bag as a generous backpack. The bag attaches to prams with clips and is worn as a backpack.
Testers were impressed with how easy to use the bag was. Home tester Kate says: "It takes some of the stress out of trips out and about. The pod system means that your bag is really well organised and when you need to change your baby it is easy, as everything is in one place."
Pros: Highly organised and functional, versatile, unisex
Cons: Strap may be long on smaller prams