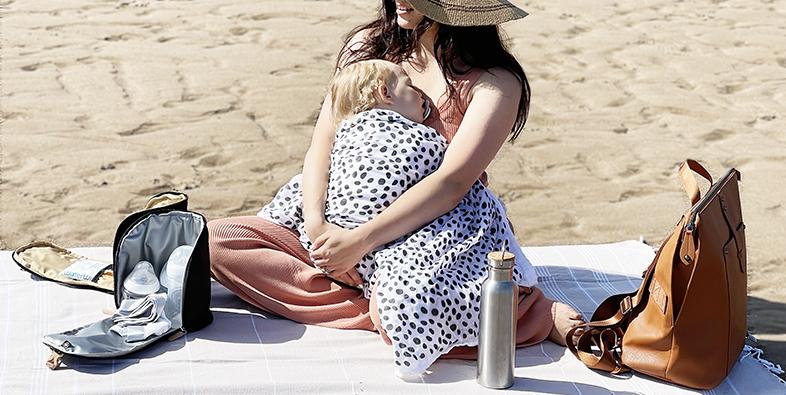 Get out of the heat and be prepared with our beach packing tips
With the latest heat wave upon us and having been stuck inside for what feels like years, we are all a little desperate to get out and enjoy the sunshine, but it's not always easy with tiny ones.  We have a picture in our heads of the perfect beach trip, jumping around in the waves and guzzling ice creams to our hearts content, but it's frequently not the reality in front of us.
Hot sand dunes that burn feet, we overheat and get too hot, rune out of water, crowded beaches, feeling fraught as they explore just a little too far for our comfort.  Our PacaPod tip is to be prepared, have your baby changing bag packed with extra nappies / swim nappies and several changes of clothes.
Here's our tick list of essentials to remember:
1 - Bring a small inflatable pool and get them to fill it up with sea water with a bucket or get Dad to (which entertains both of them) and keeps them cool at the same time.
2 - Pre-freeze baby snacks so that they can have cool treats whilst at the beach and will feel nice of sore teething gums and keep them in your feeder pod.
3 - Put a sunsail up immediately to keep the sand cooler and secure your spot.
4 - Keep a small bottle of water with ice in to spray them with as babies can't communicate well to let us know they are too warm.
5 - Use a pop up tent for naps, a tired baby that won't stop crying is just going to raise your stress levels even higher - sleep is your time to breathe...
6 - Keep you sunscreen chilled in your PacaPod too, when you reapply it, this will cool your babies body temperature down too.
7 - Create a sensory play area using shells, rocks, seaweed etc - who needs expensive toys when you have nature at hand.
8 - Dig a hole and make it seat shaped so your baby has a cooler place to prop themselves, rather than getting a mouthful of sand.
So that's your baby taken care of, now how about you?  I found taking an audiobook on my phone and putting one ear piece meant I could constantly see what my baby was doing whilst feeling like I was getting some me time too :)