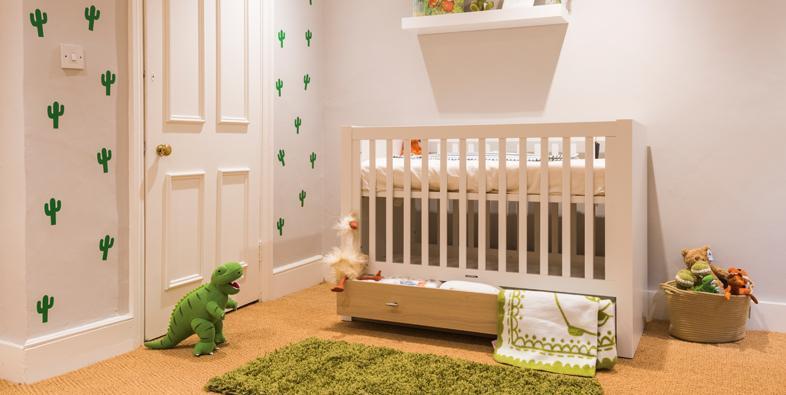 How to create an eco-friendly nursery
We are really happy to have fellow Devon based company, Naturalmat, as the authors of this blog post! The natural sleep experts have put together their top tips to create a natural nursery that's good for the environment and healthy for your baby.
Paint
Use a chalk or VOC free paint that does not off gas (release volatile organic compounds). These paints are odourless and less likely to cause headaches and allergic reactions. They are also better for the environment.
Mattress
The mattress you choose is just an important as the cot in our opinion. Choosing a mattress made from natural fibres, rather than synthetic foams, is the eco-friendly choice and can help your baby sleep better. They are also a good option for babies with sensitive skin and allergies. The Naturalmat Coco Mat is made with organic coir (coconut fibre) for support and breathability and organic lambswool for softness and insulation. Suitable for newborns up to 5 years, this mattress can be recycled at the end of its life.
Image via NaturalMat
Cot
Look for a cot or cot bed that is made from sustainably sourced wood. Check that the paint used is non-toxic and water-based. You could also consider purchasing your cot second hand or pre-loved and using a brand-new mattress. For safety reasons, when buying a second hand cot, ensure you have all the parts and it is assembled as per the manufacturers' instructions.
Lighting
Choose energy efficient lightbulbs in the nursery. If you use a nightlight to check on your baby in the night or soothe them, then opt for an LED energy saving model.
Nappies
Reusable nappies have come a long way in terms of convenience of use. Many brands, such as Bambino Mio, offer starter packs and a wealth of advice and tips on using this approach. Using reusable nappies can save you money and cut down on landfill so is worth researching.
Image via Bambino Mio
Carpet
If you prefer carpet, try natural materials made from sisal, coir or jute that are sustainable and don't have the chemicals and adhesives found in new carpets. Or try a 100% wool carpet. If you have wooden flooring, try a playmat made from natural cotton, bamboo or cork for when baby starts crawling.
Organic Babygros
There are increasing numbers of organic baby clothing options available in stylish designs. Organic cotton is better for the environment and has other benefits for babies. Organic fibres are more durable than synthetic options, especially after washing, and are grown without using harmful pesticides. They have no allergenic, carcinogenic or toxic chemicals, making them ideal for babies sensitive skin and those with allergies such as eczema or rashes. But bear in mind babies will quickly outgrow their clothing so consider a few key pieces and borrow from friends and family where possible.
Image via Baby Mori
In 2001, Naturalmat were the first company to make an entirely natural baby mattress that met all British standards without using glues, chemical fire retardants or synthetics of any kind. To this day all their mattresses are made by Hand in Devon from the finest, natural materials. Learn more at www.naturalmat.co.uk
Get 10% off Naturalmat baby and child organic mattresses and bedding with the code POD10

Terms and conditions: 1. This discount is only available with online purchases. 2. The discount applies to baby and child mattresses and bedding in sizes up to long single. 3. Ends 31.07.18