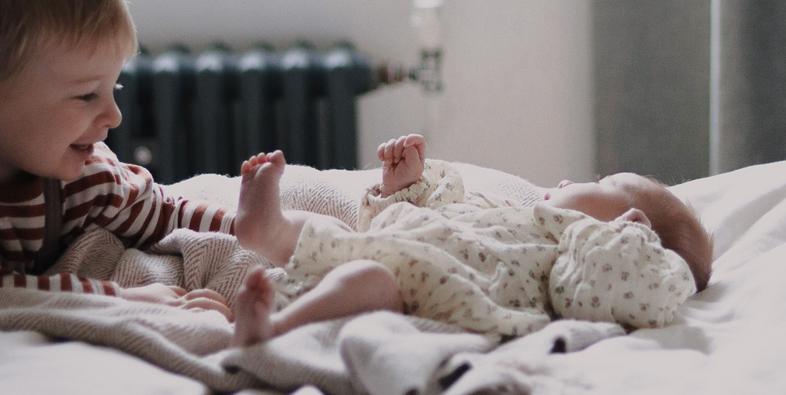 My advice to same sex parents to be
So you've found the one. Your best friend. The one you want to spend the rest of your life with. You've married, or maybe you haven't. You've got a couple of cats and a dog, you've bought a house, you've travelled the world, but there's one thing missing. That one question that is on the tip of everyone's tongue, WHEN will you be having kids? You've had the conversation a million times, HOW are we going to have kids? Can we afford it? Will it hurt? Is it too long of a process? Should we just adopt?
There's so many questions and so many answers. Everyone has a different story, but here is ours.
My wife and I met in New Zealand, her family live there so she was travelling whilst I had moved over there to work. When we met it was a whirlwind holiday romance which just ended up turning into a: can't eat, can't sleep, can't live without each other, let's get married, buy a house by the beach and have babies kind of love. It all sounded so dreamy, until we realised there was absolutely no way on earth we would be able to afford to have any kind of fertility treatment in New Zealand. So the decision was made to move back to the UK and start our forever life. We came home, we settled down, we got engaged and we started planning our wedding. Weeks turned to months and after lots of 'when is the right time' conversations, we decided to just start researching the methods available to same sex couples in the UK to conceive.
Wow, it was an absolute black hole, there was so many different options and we were very overwhelmed. IVF seemed the most popular option, but it was ridiculously expensive and I knew I didn't have any fertility problems. It seemed silly to pay so much money out on treatment that was built for people who physically couldn't conceive. There were other options too, that were a little less money, but all carried risks.
So I did my research and I whittled it down and wrote a short pros and cons list for each one.
IVF
Cost per cycle: Min £5,000
Info: The egg is removed from the body, fertilised with sperm outside of the body. Once fertilised it is then put back into the woman to grow and develop into a baby. 
Pros:
30% chance success rate for my age, which at the time was 29

Consultant led, continuous support from the doctor

Counselling offered

Extra early pregnancy scans and care
Cons:
Side effects from medication

Multiple birth

Ectopic pregnancy

Ovarian hyperstimulation

EXPENSIVE
IUI
Cost per cycle: £600 - £1,500
Info: High quality sperm is injected into the uterus around ovulation and left to fertilise an egg on its own accord

Pros:
Much cheaper option than IVF

Only available in licensed clinics so sperm is screened

Consultant led so lots of medical support

Counselling available

Less invasive than IVF
Cons:
Cramping and discomfort

Ovarian Hyperstimulation

Multiple births

20% chance of success

HOME INSEMINATION WITH FROZEN SPERM
Cost per cycle: £200 - £1,000
Info: You order sperm from a clinic or online, it gets delivered to your door with a kit to inseminate yourself.

Pros:
Cheaper option

Done in the comfort of your home

Choose your sperm from a 'catalogue'

Sperm is screened if you use a licensed company

Online and phone support
 Cons:
Less than 20% success rate

No medical support

Have to figure out how to use the equipment yourself

Risky buying online
HOME INSEMINATION FROM FAMILY MEMBER
Cost per cycle: FREE but the equipment is around £100
Info: Use a family member for sperm and inseminate at home.
Pros:
Child will be related to both parents

Insemination in comfort of own home

Only £100 to lose if it doesn't work
 Cons:
Could create problems when child is older being related

No medical support

Have to track ovulation etc. at home for a good few months beforehand

 
HOME INSEMINATION WITH DONOR SPERM
Cost per cycle: FREE but the equipment is around £100 and may need to pay donor expenses
Info: Finding a donor online through verified websites, meeting them, collecting sperm and inseminating at home.
Pros:
No cost

If you find a good donor, you can do as many cycles as needed to get pregnant

Option to keep in contact if both agreed

Getting to know the donor personally

More involvement for partner
Cons:
Sperm not medically screened

No medical support

Have to track ovulation at home for months prior

Time taken to find and interview donor

No background information

Donor could pull out at any moment as no contract or fee
So after plenty of research into each, not a huge amount of money behind us, we decided to take the route of home insemination with donor sperm. We didn't waste any time and signed up to a couple of websites that provided a matchmaking service for sperm! Sounds seedy but it was quite genius really.
You have to pay to join, which kind of sifts out all the weirdos, although some did slip through the net! We created a profile and searched all of the donors within a 50 mile radius. Lots of men contacted us, but we always had a gut feeling within the first few minutes of a conversation and skipped past. Finally we found a match, we chatted to him for a month, found out all about his family, his reasons for donating, his background and health etc. Once we felt comfortable and ready, we set up a meeting, in a public place for coffee. Things went really well and he seemed just as genuine as through his messages.
A couple more meetings and we were ready.
I had been tracking my ovulation for months, I was a pro! We had researched lots of different ways to inseminate from DIY kits, to the all famous turkey baster and decided to go with The Stork. It is a device made a little like a speculum you would have for a smear. It holds the sperm in a cup which attaches to the cervix allowing the sperm to swim straight up into the uterus, eliminating the vagina and increasing the chances of conception.
The day came, we met the donor at a hotel, my wife had read the instructions on the Stork and watched the 'how to' video a billion times. After a quick drink in the bar we headed to our room. The donor took his part of The Stork into the bathroom, did his bit, passed the cup to my wife and left. We did our bit with The Stork and that was that.

I definitely did the old legs up in the air lead on my back for an hour just incase but after that, we got back to our day and waited.
The two week wait was long, I did all the usual symptom spotting, and Googling every single twinge until the day came I could take a test. Luckily enough it was positive. We were so ecstatic that it had worked first time!
Unfortunately, we suffered a couple of miscarriages and fell pregnant third time with a little sticky bean who is now a very confident, strong willed two year old!  
We got married when I was 30 weeks pregnant and had an absolute nightmare trying to get my wife on the birth certificate. In England the law for same sex couples is that you have to be married at CONCEPTION to be able to classed as a legal parent on the birth certificate. It is absolutely ludicrous but something we didn't know or think about when planning the baby.
When my son turned one we decided it was time to give him a sibling and complete our family. I began tracking my ovulation again, luckily we had kept in contact with our donor, who was happy to help a second time and we got back to it!

Again, I suffered another miscarriage and an ectopic pregnancy, but became pregnant with our second sticky bean on the third cycle. A beautiful, empowering birth later and our family is now complete with a little girl. We feel so blessed to have one of each and also so lucky to have found the donor that we did and even though the road was bumpy, we made it through and wouldn't have had it any other way.
Even though finding a donor online and inseminating in a hotel sounds a bit seedy and risky, I would 100% recommend it to any same sex couple looking to start a family. It does take time, research, patience and guts, but it's worth it in the end! You're on a journey to create your family and bring a baby into the world. Don't let it cause you grief and stress, take your time and enjoy every second.
Life as a same sex family is beautiful, our kids have two mums, double the love, double the cuddles and kisses.
There are plenty of children's books that talk about having two mums or two dads too! We have a few and read them often, it's good to teach them that its normal and they are just extra special. We plan on creating a little memory book for both children with a little about the sperm donor, our journey. and what makes them so special.

Good Luck on your journey as rainbow parents to be!
Lauren xx 
www.lifewithlittlefolk.com