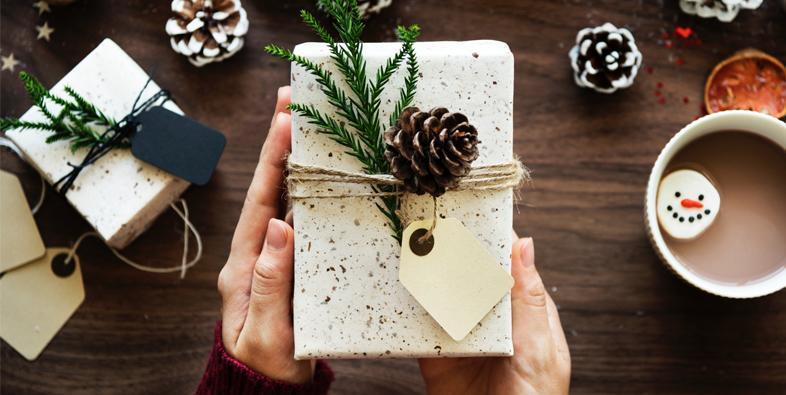 Shop Small This Christmas
Christmas time is wonderful for many reasons; whether it's the abundance of mince pies and mulled wine or the family visits from those you haven't seen for months - there is something exceptionally exciting and warming about the entire event. However, alongside that can come stresses about hosting for the masses, what presents you should buy for who and how you are going to find the time to wrap them all and deliver them before the big day. So this year, to add a little excitement into your Christmas shopping experience we wanted to suggest the idea of shopping with small businesses for your gifts.
It's no secret that shopping small is on the rise, so we wanted to join the #shopsmall brigade and give you a few reasons why we think it's important, and where we'll be heading for our Christmas gifts this season. Believe it or not, PacaPod is small. There are 8 of us in a small office, in a small town on the coast of North Devon - it is truly beautiful, and we are doing everything we can to keep it this way. But what's the benefit of shopping with a small business like us, instead of smashing out all of your Christmas shopping in your local shopping centre?
We listen and use all of your feedback: PacaPod was created when a mum of two couldn't find a changing bag that kept her both organised and stylish while on the go. It was created to make parents lives easier and to assist on the wonderful journey that is parenthood - and that's still our aim today. Every bit of feedback you give heads straight to our design team and Founder, Jacqueline so that she can see what needs to be designed in upcoming seasons. There is no great long chain this piece of feedback has to go through, as soon as we receive it we just take a short walk across the office to deliver it to exactly the right person (well, we normally bypass the treat table on the way!). Things like the pocket on the front of the Richmond changing bag came about from people like you who asked for it, as did the Mini Pod and our growing range of convertible backpack changing bags is all down to how much you guys love them and want them! It really is that simple.
Our values: Responsible. Caring. Innovative. These three words are printed throughout the PacaPod office as this is at the heart of everything we do. We care about you, so try to make innovative products that help you out, in the most responsible way possible. We understand that these sorts of values are exceptionally important to hold, especially when raising little ones, so it is something we carry through all of our work and ensure our partners do too. You can find out more about our social responsibility here.
We try to do our bit: One thing we are always striving to improve on is our environmental impact. From the very start (10 years ago now!) we have always tried our hardest to be as environmentally friendly as possible; whether that's our method of recycling unwanted changing bags, or the fact that we will never fly goods in, we are trying to do our best. In fact, this Christmas we are really pleased to be shipping all of our orders in brown paper bags to not only conceal the fact that they are from us, but to ensure that they can be recycled (don't worry our usual printed PacaPod mailer bags can also be recycled too!). If you receive your bag in one this year, do let us know what you think! Plus to find out more about our environmental responsibility, visit the blog here.
Our customer service: because we are only a small team of 8 you can guarantee that if you have a problem one of us here will be able to do our very best to help you out. When you email customer services the same member of the team will be able to help you out from beginning to end so you can guarantee a totally personal service throughout.
So those are just a few of the benefits you can get from shopping with a small business like us, but where will we be shopping this year?
Wanderlust: Everyone in the PacaPod office is a huge fan of Wanderlust as a fellow North Devon based brand. Their delicate jewellery is minimalist enough to suit everyone and every occasion but their radiant designs catch your eye and effortlessly elevate an outfit. We are huge fans of their Fine Cord Necklaces with your choice of birthstone - it adds a lovely personal touch!
Nourish Stores - this genius health, wellness and refill store has just opened up in the small town of Braunton stocking a multitude of wholefoods and household goods but with the twist of being able to refill your existing containers. The trend for cutting down on single use plastics is certainly going nowhere (thank goodness) so keep an eye out for any similar stores that may offer this around you!
Bohemias Closet - these are just the most adorable kiddies shoes and we think they make the perfect gift for any child or for a parent to be! We especially love their leopard print and rose gold designs - they're the perfect addition to any little one's festive outfit this Christmas.
Magnificent Stanley - Created by a mum of two from her home in Essex, Magnificent Stanley do beautiful personalised t-shirts and gifts for little ones. They now do sweatshirts for Ladies so Mama's and Mini's can match too!
We hope these suggestions are helpful, and do let us know if you will be doing your Christmas shopping with us or any other small shops!
Check out our full collection here!