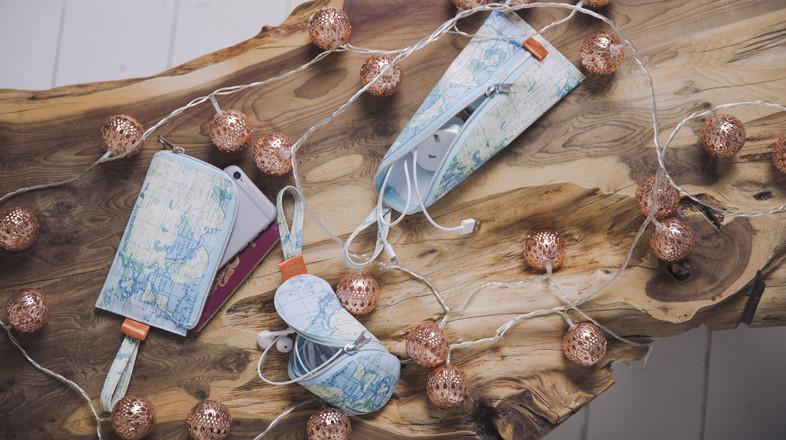 We love to give back to our wonderful PacaPod parents, particularly during the festive season. In the spirit of Christmas we are giving away 3 exclusive mini PacaPod organisers in our unique map print with every order*. If that wasn't enough we are also offering FREE next day delivery (UK mainland customers only).
If you already own a PacaPod changing bag you will know that they are super duper baby organisers, that's our thing. So we've crafted these cool mini organisers that can clip onto your bag so they are perfect for packing away essentials for your Christmas adventures.
The beauty of them is that, (like all PacaPod's) they are cleverly designed so they can be used for a multiple of uses and are perfect for travelling on-the-go. You will never loose your headphones, leads or mobile phone in the bottom of your bag! You can securely zipper them away in these mini pods and clip them onto your bag for easy access on the go. Simple! The difficult bit is deciding which FREE gift to choose. See below for a few suggestions of how to use your unique free gift.
Happy Travels, Happy Christmas!
1. PacaMiniPod
Our MiniPod is a fantasic addition to keep your baby's pacifier hidden away and hygienic when not in use. The mini pod zips out flat so you can wipe it clean in between uses.
2. PacaPouch
A versatile organiser which can be used to tidy away makeup essentials or as a child toy tool kit to keep them occupied on long journeys. It can even be a useful organiser for your chargers, leads, and plugs or even as a first aid pouch.
3. PacaCase
A useful accessory to store away your phone, passport, credit cards and tickets so they are always on hand while you are navigating through airports and train stations. It also works as a great little clutch purse when you want to carry light!  
*Orders over £65 on pacapod.com