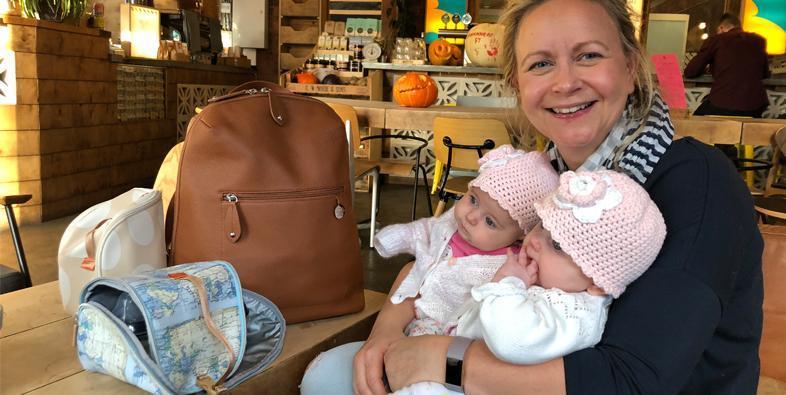 We are really excited that this blog post is written by one of our wonderful brand ambassadors - Kate Ball! If superwoman existed in the 2018 world, we are pretty sure she would look like Kate. As a mum of 6 - a 7 year old, 6 year old and TWO, yes TWO sets of twins aged 2 and 6 months, I think it's pretty safe to say she has her hands full. And on top of that, she also runs her own successful business, Mini First Aid, multi-award winning first aid classes for all of the family.
So, when it came to Kate writing a blog post for us we just HAD to find out how much she really takes for a day out with the kids and how on earth she doesn't need to take a trailer full of essentials everywhere with her. So here it is!
"Wish you were one of those women who said, "Oh I am only carrying a phone, purse & lip gloss" when sharing the contents of your handbag? As a mum of 6 under 8 with 4 of those under 2, my change bag makes for interesting contents! This month PacaPod challenged me to talk about what was in my change bag. Think Mary Poppins, my old change bag was basically a sack to root around in to find what I need, and near on the kitchen sink was in there.
Cue my beautiful Hartland Tan Leather PacaPod and it was time to really think about what should be in my change bag:
In the changing pod:
Nappies - size 1 - really the teenies should be in size 2 now but I'm still using the plentiful supply of 1s up, praying for no explosions as there ain't much room!
Nappies - size 6-pant variety. Ever tried pinning a near 2yr old down to change a nappy?! Pull-ups work and my 2 crazy toddlers can stand up and stomp whilst I put them on.
Wipes – I'm trying new biodegradable wipes. Seriously we need to do our bit and we go through absolutely masses of them!
Bottom Butter – Waitrose do the most gorgeous smelling bottom butter. Its taken a while to find a replacement for our beloved Cath Kidston balm which is no longer manufactured, but this is it. No rashes and 100% natural product.
Nappy Sacks – of the biodegradable kind. Perfect, polishing my save the planet halo.
Hand Sanitiser – Bed and Bath Works do the most amazing smelling hand sanitiser and it doesn't just smell of pure alcohol. Obviously washing hands is far superior but sometimes on the go and all that – needs must.

In the feeding pod:
I'm mostly breast-feeding so I can't put my boobs in the pod (just imagine –actually don't!) But, I need a break, feeding twins is hard work especially with 4 other children, so bottles feature. I've done the guilt bit and now I'm OK – these babies need a happy mum so if mixed feeding helps me than that equals happy baby.
2 Bottles with cooled boiled water (drives me mad the prep for bottles) and 2 pots of formula. Pre scooped and labeled as just to add to our woes, the girls are on different milk, as one needs to speed up her growing!

In the front pocket:
My sunnies…. Never a day where they are not needed, either for sunshine protection, or dark circle coverage. It's bright out.
Car Keys – and the spares (sorry hubby – I blamed him!)
Purse – full of receipts, coffee shop loyalty cards, 27p and my bankcards.
Mobile – occasionally so I can answer it and actually talk to people, but mostly so I can snap family life and plaster all over Insta.


In the main pocket:
Spare clothes for the youngest 4 - This is where I'm most likely to fail if I don't replenish or update the size. But in theory if mess happens there is some variety of something to change in to.
First Aid Kit – an absolute must, obviously being in the business of first aid I would say that. You won't regret it.

My PacaPod is a backpack – the most essential thing about it – hands free to hold onto some of this crazy brigade of 6 that I mothered. If you want to get your hands on a PacaPod and walk round like me feeling like the only thing that resembles any sort of organisation is your change bag then visit pacapod.com."