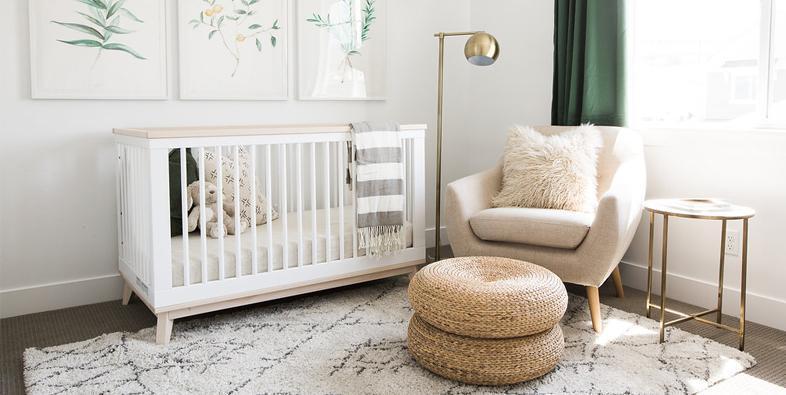 Getting the nursery ready for your little ones arrival can be one of the biggest and most exciting tasks there is to do throughout pregnancy. It gives you a chance to potentially restyle a whole room in your house and to create a loving, cosy space for your new little arrival. However, many parents can really struggle to know what sorts of things to put in their nursery, particularly as it is unlikely to be fully used until baby is around 6 months old and sleeping in there on their own. To help you out, we thought we would compile a list of some of the key items that you should consider putting in your nursery. If you need any style inspiration, then do be sure to check out the blogs linked at the bottom.
Moses basket/cot bed: In the early stages of baby's life, they are more than likely going to be in a Moses basket in your bedroom as opposed to a cot in their own room. However, many parents still choose to purchase a cot for their little ones nursery before their arrival, so it is ready for them when they get a bit older. We absolutely adore this beautiful Moses basket from The White Company

here

made by Shnuggle, as it's a slightly more modern take on the traditional baskets.
Changing unit: We definitely recommend having one main changing station in the nursery, even if you may find yourself changing baby's nappy in other parts of the house throughout the day. It can be an absolutely lifesaver in the middle of the night to have a changing station all set up with wipes, creams & nappy bags, to save you frantically searching for them after a midnight poo explosion. The style you choose will completely depend upon how you decorate your nursery, but Mothercare have loads of lovely ones

here.
Room Thermometer: As much as this might not be the first thing that springs to mind when you hear 'nursery essential', it can be super useful to have throughout the year so you can decide what sleeping bag and blankets to use on your little one. This one

here

from The Gro Company will glow a specific colour depending on the temperature, as well as telling you the exact temperature on the front, so you can decide whether to cool the room, add additional blankets etc.
Blackout curtains: Equally not an item that immediately springs to mind when you think 'essential' but extremely useful nonetheless. Particularly in the summer months, it can be hard to keep little ones asleep if it doesn't get dark till 10pm and starts getting light at 5am. You can either purchase a specific blackout blind to have fitted in the nursery, or purchase The Gro Company's

'Gro Anywhere' blind

which is perfect for when you're on the go.
Baby Monitor: As a recent winner of the Made for Mums awards, this

Babymoov monitor

is the perfect choice for keeping an eye on your baby at night. The ability to monitor your baby's sleep enables you to judge whether it is necessary to tend to them in the night, and is also perfect for when baby might be slightly out of hearing distance.
Storage: Depending upon how much room you have in your nursery, we really recommend having some smart storage somewhere in there. Obviously, you will need places to store baby's clothes in the early days but then it is also worth consider a storage solution for their toys when they are a bit older. Some cots will come with storage underneath which is a really good space saving technique, but if you have a little more room then we recommend going to somewhere like Ikea to purchase some specific storage units.
Comfy chair: If space allows, then a comfy chair is one of the most important things you could have in a nursery. You are likely to spend a lot of time in the nursery feeding your little one throughout the night so to have somewhere comfy to do it is key (although… maybe not too comfy in case you fall asleep!). We recommend either a nice rocking chair or armchair to help support you when you are feeding.
Bedding: It is worth considering before your baby makes it arrival, what bedding you plan on using. You might want to consider whether you will swaddle your little one, if you will use sleeping bags. Either way we cannot recommend

aden + anais

enough for their incredibly soft, and well made swaddles and sleeping bags. Honestly, if they did adult sizes we would have them!!
Nappy bin: Potentially an item that is overlooked when planning the nursery, but also the one that could save you a lot of stress. Let's be honest, changing nappies is not very exciting (well not after the first few anyway) so we are of the mind that you want to get it done as quickly and efficiently as possible. A nappy bin can be perfect if you live in a flat or somewhere without a garden as it enables you to store them somewhere where the odour will be contained until you can deal with it at a later date. This Tomee Tipee one

here

has also just won a Made for Mums award with it's amazing odour control and anti-bacterial properties.
Lamp/Night light: As we said before, you are likely to spend a lot of time in your baby's room at night feeding them, so you want to make sure everything is geared up to make those night feeds as easy as possible. Having a dim lamp, or soft night light can be super useful for ensuring that baby doesn't fully wake up in the night when feeding which can occur if you switch a big overhead light on. We adore this super cute night light

here

, as it provides a light that enables you to see things clearly without it being too bright and intrusive.
We hope that you find this list useful, and if there are any other items that you think should be added to it then please comment down below! Plus, if you are looking for nursery decor inspiration then look no further than these fabulous blogs;