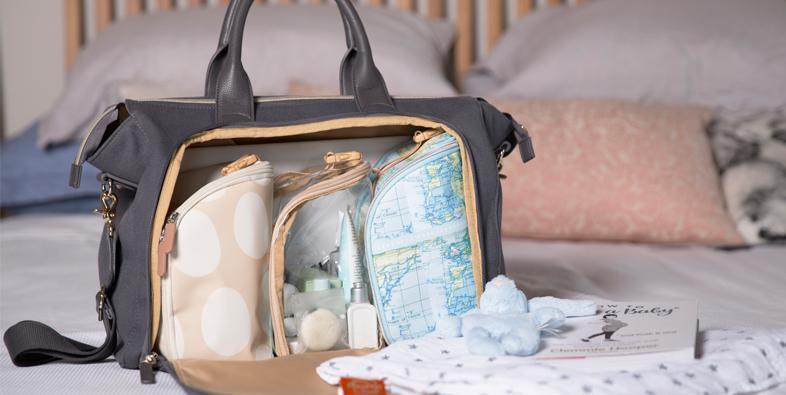 Changing Bag Buying Guide
Whether you're a first time parent, or you're on baby number 3 and you've just never found the right one, buying a top changing bag can seem like an overwhelming task. We get it, there are so many designs out there and here at PacaPod we always want to create more to make your life as a parent even easier. But where do you start when we have backpacks, totes, black bags, patterned bags, small bags, big bags, dad bags… okay you get it, the list really does go on. Well to help you decide we have grouped together a few of our bags by their key features, so that you can get a bag that suits your look, lifestyle and needs as a parent.
For those who are struggling to part with their designer bag: 
It's fine, we understand, you may have invested big time in a beautiful leather handbag and justified it to your partner by saying you'll use it every day for the rest of your life. But in reality, these things just aren't practical for parenting. So if you're after something that feels luxurious and looks luxurious, without giving away that it's a baby changing bag, then do check out our Firenze and Loreto.
Made from beautiful pebble leather these bags really give even the most high-end designer bags a run for their money.  
For those that want a baby bag enabaling fuss-free transition between work and home:
Who wants to spend hours either end of the day packing a bag for your little one and then packing a separate bag for yourself – not us that's for sure! It's confusing, stressful and you're bound to forget either your important work stuff, or a spare change of clothes for your little. Well both our Gladstone and Prescott Combi are the ones for you! With copious amounts of space inside, you can grab the pods and drop them off with your child, while still being able to carry the main bag with all your essentials for the day ahead in too! Plus, the Prescott even has a designated padded pocket for your laptop – we really do think of everything!  
A practical changing bag for those who regularly hit the hilltops:
If you're someone that spends 90% of their time outside exploring, and whose child is better at reading a map than The Hungry Caterpillar, then the Picos is for you! Its lightweight design, spacious interior, backpack straps and padded, breathable back panel all combine to make it the perfect companion on outdoor trips.  
For those with big broods (or for those who can never decide what to leave at home!):
Whether you're a proud member of the "two under two" club, or you're just a fan of packing for EVERY eventuality (you know - the one where your child simultaneously falls in a puddle, poos through their nappy and spills food down themselves resulting in a need for 3287 spare outfits) then we highly recommend either the Mirano or the Croyde. The 'Mary Poppins' of all changing bags, these are great for travel, weekends away and general day to day life with lots of kids! Plus the Croyde has not two but three pods inside giving you an even higher level of organisation.  
A luxury baby changing bag for the jetsetters:
 We all have those friends that just always seem to be on holiday don't we? Well if you're actually one of those lucky people that travels here, there and everywhere, then our Hartland is your bag! Its compact size make it the perfect fit for overhead cabin storage, while the backpack straps mean you can have your hands free for passport control! Image below via: @beatriz84
Changing bags for the minimalist:
If you're after a changing bag that is fuss free and lightweight, then the look no further than the Hastings. The convertible backpack straps means you can fling it on your back or over your shoulder and head out for the day in a flash (well as quickly as is humanely possible when you have a child... so a few hours or so?) Plus the whole thing weighs less than a kilo!
For the little ones who want their own independence:  
How could we not include a bag for the little people that started this whole thing in the first place? Our Toddler Pods and Toy Changer Pods are a huge hit if your mini-me is dying for some independence - and our clever safety rein ensures that you can keep a close hold at all times. And if that doesn't sound fab enough, then why not make them carry some of their own stuff too so you can feel more like a parent and less like a pack horse!
Rest assured, the options don't stop there, so if you're still a little stumped then do check out all of our styles here.