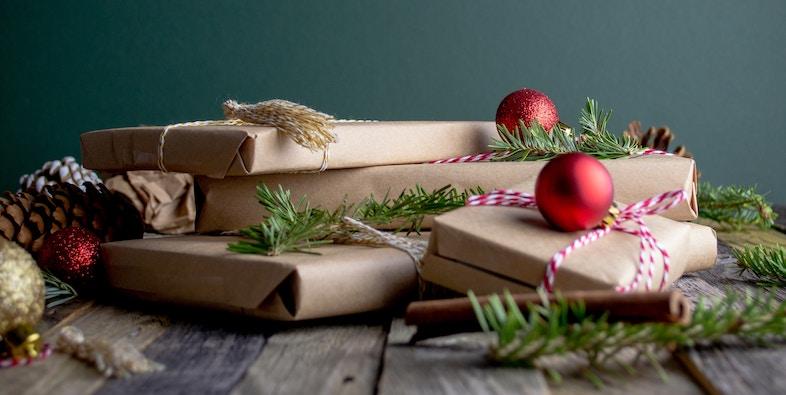 How to Have an Eco Christmas
Christmas is our office's favourite time of year. We love the lights, spending time with our families, and (of course!) the yummy food. But we're trying to challenge ourselves this year to try and celebrate the season with less waste. Here are our top tips.
1. Skip the shiny wrapping paper and use brown paper instead
Wrapping paper can't be recycled, because of the materials in it. And when you add micro-plastics like glitter to the mix, it really seems like an easy thing to swap. Why not get some plain brown paper and have a craft afternoon with your little ones? Make some potato stamps and print the paper with stars or snowflakes. You can also get bio-degradable glitter if you did want to add some sparkle. Fasten your parcel with a fabric ribbon that can be reused time and time again.
2. Source some recyclable crackers for the table
We've seen these from Dunelm that are completely recyclable, plus instead of having a plastic toy it contains an origami task - perfect for keeping bigger kids occupied after lunch.
If you've got time, you can also make your own crackers. Have a look on Pinterest for some inspiration.
3. Get a reusable advent calendar
There are loads of different reusable advent calendars out there. We've found this cute wooden one that can be used over and over again. And the beauty of something like this is it will become a sentimental item your kids will want to bring out for years to come (who knows, maybe their own kids will end up using it!).
If you're crafty, you can also make an advent calendar with fabric pockets. Have a look here for some free patterns.
4. Rent your Christmas tree
We know - who'd have thought this was a thing?! But while researching this blog we've found out that some garden centres will hire out Christmas trees, including delivery and collection, so that once you have had it up for the season it can carry on growing.
5. Make tree decorations
Instead of buying chocolates for the tree, why not make your own decorations? Ginger bread is great to make with your little ones, and easy to hang on the tree. Plus who doesn't want ginger bread to snack on over the festive period!
Those are the swaps we're making this year. Let us know any swaps you're doing!