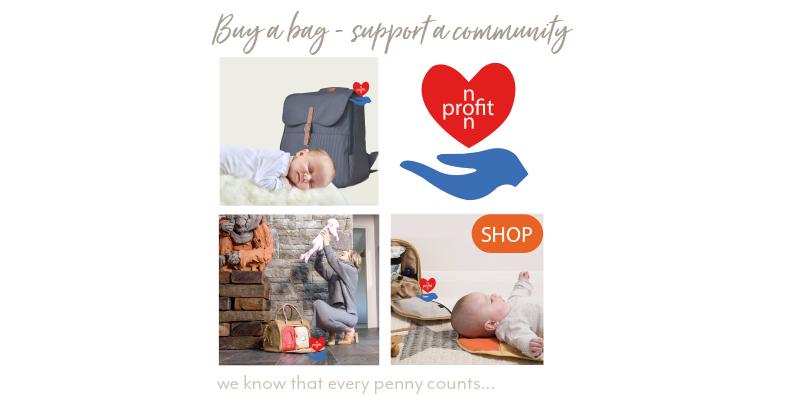 We know it feels like the world has changed dramatically before our eyes over the past few weeks. It's scary for everyone, us included, and that's why we want to pull together to get our PacaPod family through this.
It may feel like an unsettling time to be welcoming a new baby and all that that entails (the world and its problems aren't going to wait for the right time for your baby to be born!) which is why we want to support you and the people in our local community who are also struggling through these uncertain times.
We've calculated the point where we make no profit on lots of our changing bags and we are offering them to you at this price (we know right now every penny counts) and for each of these bags that we sell, we'll be donating to two of our local charities who will be helping people affected by Covid-19 - the Northern Devon Foodbank and Over and Above, our local hospital's fundraising arm.
To help support our community through this, just pick a bag with the non-profit logo and we'll make the donation on your behalf. 
Family is, and always has been, at the heart of everything we do, and is the reason PacaPod was founded 12 years ago. Let's stick together and support each other.
Find innovative ways online to keep in contact with your loved ones, your family your friends and your fellow Mums and Dads.
These are uncertain times, and it's easy to feel completely out of control at the moment, but remember to a certain extent we can control what we do at home and how we choose to rise to this challenge.
We aren't always going to feel positive, and that's ok -  it's about connecting with your emotions and recognising what we need to do to find the positives in things. It isn't about being perfect, or making yourself feel guilty if you lack motivation at this time. It's about listening, communicating and doing what you can to keep things ticking along.
Try looking for three things each day you are grateful for. It could be something trivial like someone else folding the clothes for a change, or something big like your family's health. Write them down or share them.
Take a moment to breathe properly and deeply.
There will be great positives we can hold on to from this experience, there will be silver linings, there will be good things happening; try to focus on these.
Aim to eat as healthily as possible, but allow yourself some treats (purely to boost morale of course!)
Communicate, reach out to people - contact some old friends, some elderly relatives, get the children involved. Try setting up groups of friends online for virtual get-togethers.
Attempt to limit the amount of time spent trawling the news for Coronavirus updates – perhaps check once every two hours rather than every 20 minutes to reduce anxiety.
Share some of your lockdown pictures featuring your PacaPod baby changing bag. How are you coping at home during the current situation? Tag @pacapod with the hashtag #mypacapod for a chance to be featured on our Instagram.
You are part of our family, and we are thinking of you all at this time. We would like to say thank you for all the things you do, and send you and your loved ones our best wishes. Stay safe.
Everyone at PacaPod x