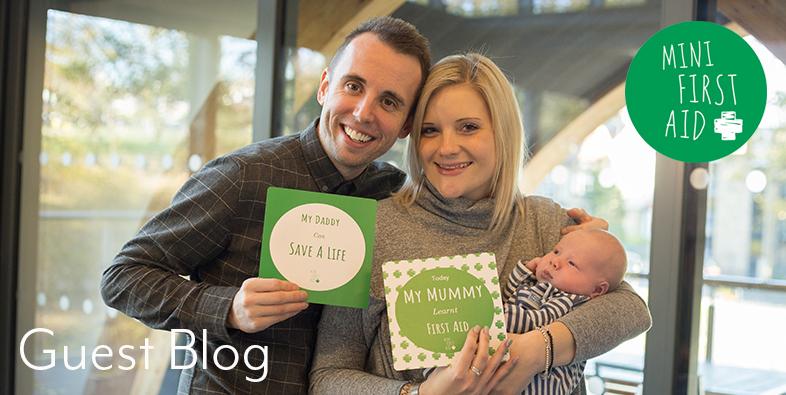 Mini First Aid Guest Blog
Confessed fan of Pacapod and Mum of 6 (including 2 sets of twins!) and founder of Mini First Aid, Kate shares her first aid tips for our new parents.
"When we get ready for baby to arrive, we often focus on the softer side; the nursery, the change bag, the pram, the first outfit. Why not? Having a baby is an exciting time.
We then start to think about the birth, how we want things to go and how we plan to feed our baby. At this challenging time with COVID-19, parents-to-be and new parents may be feeling anxiety around birth and new born preparation more than ever before. Some parents have told us how the preparation for becoming a parent is not how they ever imagined it would be.
At Mini First Aid we cannot give you all the magic answers, but we can help you to think about practically equipping yourself for baby, and to think about First Aid. It's amazing that so many parents do not have the basic first aid knowledge to help save a child's life.
Here are my top tips:
Take part in an online baby first aid course. Knowing what to do in an emergency could literally save a life.
When available attend a practical CPR session to learn hands-on how to deliver CPR and deal with choking.
Ask the adults (grandparents and carers) who will (in the future) be spending time with your baby to also complete an online first aid course and don't forget siblings will be able to attend First Aid classes designed for children and watch first aid for kids lessons online.
Make sure you have a first aid kit in your change bag or under your pram and another located at home in the room you spend most of your time in. Make sure that everyone knows where the first aid kit is kept and replenish supplies regularly.
Invest in a good thermometer. (expect a delay on orders right now)
Make sure you know where your nearest Paediatric A & E is located (not all hospitals have one).
Follow Mini First Aid on social media – we share regular first aid tips and advice.
Subscribe to the Mini First Aid weekly newsletter where more first aid advice, blogs from paediatric experts are shared each week straight to your inbox.
For many parents weaning their babies, the possibility of them choking is really scary.
So, first things first, right from the beginning we show our babies and children that grown-ups eat sitting down, chew properly (!) and that we never put too much in our mouths. Babies mimic so we need to be role models.
Never ever leave a baby or child eating without supervision. Silence is the sign of choking.
Make sure you know how to deal with a choking baby. This will give you confidence to enjoy the weaning process – its messy, but lots of fun (trust me!). I demonstrate dealing with choking in our online first aid course. Once available it's well worth booking yourself a place on a practical baby first aid class to gain the practical experience too. We would love to see you!"
Minifirstaid.co.uk. @minifirstaid
Giveaway
This month you have the chance to win a Mini First Aid Kit with two books from the brilliant @minifirstaid - head over to our Instagram feed for more details…
https://www.instagram.com/pacapod/
Mini First Aid will also be offering a lucky winner the chance to own one of our PacaPod Croyde baby changing bags, along with a gold Freedom Pod - head to their Instagram for more details, and good luck!