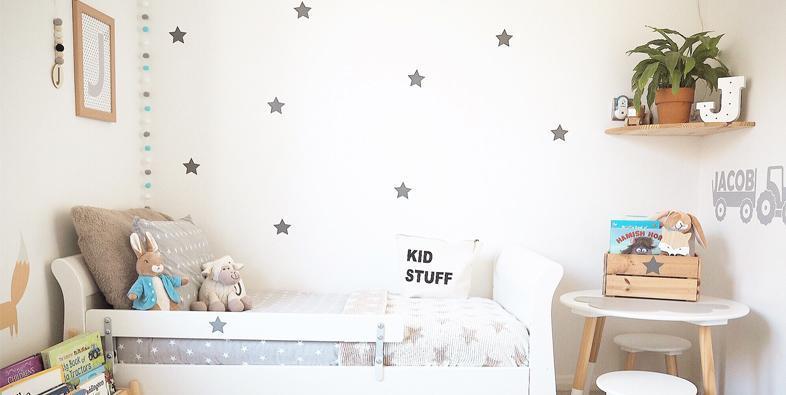 Top tips for decorating your child's bedroom
Our next Brand Ambassador blog post is from the lovely Sophie, @ourlifeinthecountryside_. When we first came across Sophie's Instagram we instantly fell in love with her beautiful home interior posts - their super cosy, country home just looks like the most gorgeous place to live as a family! So, we wanted to pick her brains about all things interiors and find out her top tips when it comes to decorating your little one's bedroom - enjoy!
Decorating your child's bedroom is never a simple task, you can easily get lost in a world of childhood themes and end up spending a fortune...
The aim is to find that perfect balance between what they like and what's practical whilst also trying to keep it stylish. Try to pick a timeless design, something that can easily be altered with decorative furnishings and adapted as your child grows.
Here are some of my top tips..
Colour
Keep it simple- too many colours can be very overpowering when walking into a room. The best thing to do is start with white walls, it's going to give you the perfect blank canvas to start with. It's the best base colour because it's plain, light and always makes the room appear larger and feel more spacious. Once you've done that you can then pick what colours you'd like to incorporate into your design.
If you feel like all white is a bit too plain for your liking you could create a feature wall, painting that a different colour to the rest, or using different shades of a certain colour that you like to create a pattern on one of the walls.
Keep it cosy
There's no doubt about it, kids love a cosy bedroom, especially when it comes to bedtime! Use lots of soft furnishings like cushions and blankets on their bed and around the room.
Lighting is very important when it comes to successfully making a room feel cosy. Fairy lights are always a massive winner and are perfect to have on at bedtime along with night lights, they give the room that magical twinkle that kids adore. You could even go for star shaped fairy lights to give the appearance of twinkling stars in their room.
A great addition to any child's bedroom is a book corner, if you get creative they can look amazing and they're perfect for helping your child enjoy books. You can create this by using a teepee or canopy for the area to sit and read together, add some cushions and blankets to make it comfortable and then surround it by lots of books. Call it your cosy corner!
Wooden toys
Get rid of all that plastic and say hello to wood, it looks a million times better and it's not as harmful to the environment. Most toys that you can purchase in plastic can also be found in wood. You might have to do a little bit more searching around and spend a bit more money but it will be worth it in the long run. The wooden toys will last a lot longer, look a lot better and be a lot more durable!
Also one of the best things about wooden toys is that if it starts to look a little worn out you can sand them down and redecorate them. If you look on Pinterest you will get a lot of inspiration and amazing ideas on how to personalise wooden toys. One of the best ones I've seen is the 'Ikea toy kitchen makeover' - it's the perfect way to add a personal touch of style.
Wall decor
Liven up those empty walls with some pretty photo frames and some wall prints! They are a lovely addition to a child's bedroom and there are lots of companies that specify in just doing wall prints. You can also find some lovely personalised wall prints with your child's name or initials on them.
Wall decal stickers are a great option for livening up an empty wall. They come in all different shapes and sizes so no matter what theme your aiming for you'll be able to find something to suit your requirements. They are super cheap and as long as you use a good paint on your walls you can change the stickers as much as you like without any hassle. Be careful if using a basic wall paint as the stickers can sometimes pull layers of paint off with them when you go to change them.
Storage
Storage is extremely important when it comes to organising your child's bedroom, as all parents will know children have A LOT of stuff! The most effective way to maximise storage and keep it spacious is to use storage combination units which you can fill with either trays or canvas boxes.
Toy boxes and fabric storage bags are obviously a must have, but that doesn't mean they can't look good! You can find so many different styles and designs available online and some you can personalise! Having a personalised toy bag in the room always stands out and kids love them. These two are the best options for toy storage as the toy boxes can be wiped down to clean and the fabric storage bags can go in the washing machine so they're both easy to keep clean!
Most importantly, have fun and create something your child will love! 
Sophie Xx