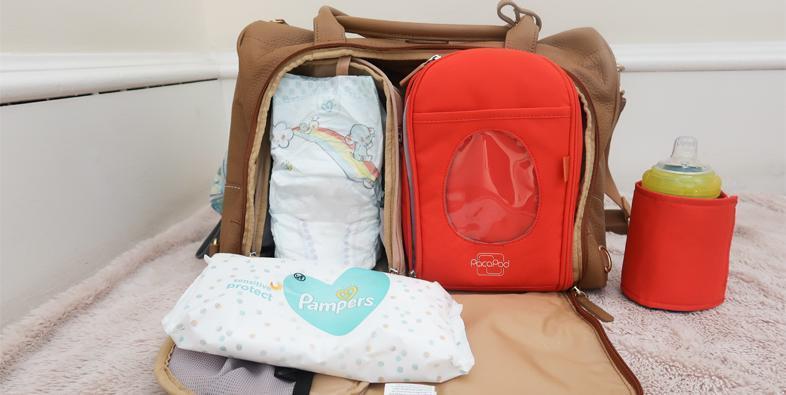 Changing Bag Essentials for a day out
The penultimate blog post in our Brand Ambassador series is here and it's from the wonderful Nanalena! She has compiled a list of all the things she packs in her Loreto changing bag. Happy reading!
Whether you're a first time mum or a mum of many a well packed baby bag can really change the course of your day. Pre-planning enables you to think of all possible eventualities and can lead to you feeling less overwhelmed and more like you can face whatever the world has to throw at you; baby and baby bag in tow.
This is why I am coming to you today with my top 10 Baby Bag Essentials in order of how I pack my 3-in-1 PacaPod changing bag. Oh I forgot to mention I have a surprise for you at the end so keep reading.
Main Bag
Spare clothes - if your baby is anything like mine, you will know the nappy explosions can happen at any time, any place and when you are least expecting it. So this will usually occur when you're out and about and it is most difficult to change your baby. The best thing to do is not to panic and approach your baby with caution because the explosion can spread as quickly as it landed. Spare clothes are your best friend and can leave your baby feeling fresh and clean in a matter of minutes. I tend to pack a full change of clothes so this includes 1.1 Vest (long or short sleeve) 1.2 Tights/Socks 1.3 Top/T-Shirt 1.4 Leggings/Trousers 1.5 Cardigan. You may not always need the spare clothes for a nappy explosion and you may not have to use every single item but it is good to know that you have them to hand should you need them. Make sure they are clean.

Spare nightwear - I tend to pack an extra sleep suit if I know we will be out until the evening. The reason for this is because my baby tends to fall asleep in the car. So if I change her before we leave our destination, by the time we get home we can just take her upstairs and straight to bed without interrupting her sleep by having to change out of her clothes.

Toys or Books - or anything that will keep your little ones engaged and entertained. Teething toys really helped me keep my baby quiet at some crucial times as she would usually be making noise out of frustration. Allowing your baby to look at the pictures in a book or if you can, reading to your little ones can be rather beneficial too and could keep them calm.

Medicine (Optional) - I know some parents do not like giving their kids medicine so I have marked this as optional. For those who are not opposed to it we all know our little ones are accident prone and can also get a temperature at the switch of a light switch. I am not a medical professional but I tend to keep some paracetamol and sometimes some cough mixture in my baby bag for such occurrences.   
Changer Pod
Nappies, Wipes & Nappy Bags - the great thing about the 3-in-1 changing bag is that it comes with a changing mat for your convenience. You only have to add the nappies and wipes of your choice. Try not to forget your nappy bags as you are not to know when or where you will get the opportunity to dispose of your nappy and the smell of an old nappy can be quite offensive at the best of times. The nappy bag will help to mask the smell.

Nappy/Barrier Cream (Optional) - once again this is optional. Some babies have sensitive skin so the barrier cream helps to create a barrier between the nappy and baby's bottom. It also helps to prevent nappy rash and other irritants.

Hand Sanitizer - to help kill those germs but also because you cannot always guarantee that you will be changing your baby in a toilet or baby changing room so you may not be able to wash your hands.         
Feeder Pod
Milk, Bottles, Food - a hungry baby is an unhappy baby. Need I say more?

Snacks - I try to keep some healthy snacks in our bag as you never know when your little one might get peckish

.

Muslins/Bibs - muslins are great not just for cleaning up messy mouths but also, if long enough they can be used to cover yourself if you are breastfeeding and you do not want to expose yourself

.
Now for the surprise. Attached is a downloadable and printable checklist to help you pack your own baby bags for a day out.
I hope this helps.
Happy packing!
Download the list